Bernina 1230 Sewing Machine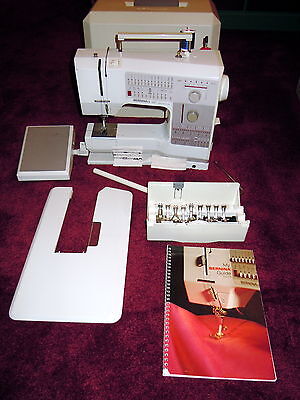 Bernina
1230 Sewing Machine: Used
The all-metal
motor housing and solid-metal DC motors in this machine are strong , silent and
durable. This machine has
just been serviced top to bottom at a local Bernina shop. It is perfect for
sewing on silk, leather, suede, sail cloth, or any type of fabric for quilting.
Though the
newer machines are very sophisticated and nice, the "feel" of these
older solid metal housing machines is wonderful. These machines sew
significantly faster (1250 to 1500 stitches per minute) than today's current
models except for the new Bernina 830, which means that dropping the feed dogs
to free-motion quilt is a joy and does not need the BSR attachment required on
newer machines. It has the legendary CB hook system that means precise stitches
all the time. With 5.5 stitch widths and infinitely variable stitches, it is a
joy to work with and create thread designs with. It is perfect for freehand thread painting
and perfect ¼ inch piecing for quilting users.
It comes
with all original equipment, feet and accessories in a special container that
fits right on the machine behind the arm, a metal, not plastic, slide on table,
knee lift system, retractable power cord, retractable foot pedal cord and a
hard shell carrying case.
This is a one-owner
sewing machine, purchased brand new and always maintained as it should be by
qualified Bernina technicians.
1230
Features:
34
stitches, numbers, letters, (Block Alphabet) and characters
2
Programmable Buttonholes
Stitch
length and width 0 to 5mm (infinity Variable)
Needle
stop up or down
Programmable
memory, with stitch memory storage, true basting stitches, quick reverse and
full reverse and even half speed for delicate fine fabric sewing
11
Feet Included:
# 0 Zigzag foot, #1 Coded Reverse Pattern Foot;
#2 Overlock Foot; #3 Buttonhole Foot; #3A Automatic Buttonhole Foot; #4 Zipper
Foot; #5 Blind Stitch Foot; #6 Embroidery Foot; #7 Tailor Tack Foot; #8 Jeans
Foot; #9 Darning Foot; #18 Button Sew-On foot, darning attachment, 5- new
bobbins, machine oil, brush, small screwdriver, seam ripper and light blub
insertion tool. Includes an owners manual
Recently,
a similar equipped 1230 sold on Ebay for $899 plus shipping.
Ship
to US Only.